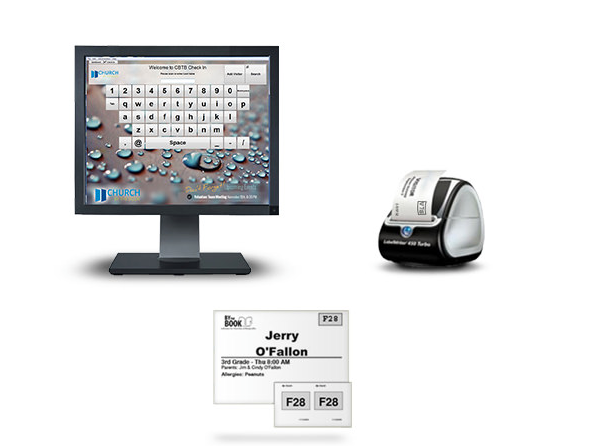 We are continuing to see more and more young families coming to Sea Road. In light of this continued growth we want to do everything we can to ensure the safety and security of your children. Our new check-in and pick-up process is simple yet efficient. Our goal is for you to enjoy the worship service, knowing your kids are secure, while having a great time learning about Jesus.
What will this process look like?
From your child's first visit, we will collect some basic information (name, age, grade, allergies, special needs, etc.) to get to know your child, and enter them into our system. From then on, each time you check-in on Sunday mornings, both you and your child will receive a security sticker with a matching 3-digit code, valid only for that day. We ask that both you and your child wear this sticker visibly on clothing, until you leave.  Nursery care runs through the entire service and Children's Church (K-5) begins after the Praise & Worship.
What if your child needs you during the worship service?
If you are needed, we will display your 3-digit code on the big screen in the service to alert you. Please be attentive to the screens throughout the service; and if your number is displayed, head to the foyer and use the stairs to the right to go down to the lower level where the nursery and children's classroom are located.
Pick-Up
When the worship service has ended please return to the lower level of the church to the nursery and children's classroom area to pick up your child. You will be asked to show your security sticker to retrieve your child. (Wearing your sticker visibly helps keep this process moving quickly.) We will then match the number on your child's sticker to the number on your sticker, prior to releasing them.
Staying for the R & D group discussions?
If you decide to stay for the R & D group discussion time, then we ask that you bring your child over to the gym for extended child care. The gym is located in the building just across the parking lot. There will be a volunteer in the gym that is excited to spend time with your children. When you arrive they will have a simple sign in/sign out sheet. If you could sign your children in on the sheet provided. At the end of the R & D discussion we ask that you return back to the gym to pick your children up and sign them out.
That's it! We hope to see you and your kids this Sunday for worship. It is our great passion to do everything we can to lead all people, young and old, to discover and grow into the fullness of Christ!